MISSION FRIENDS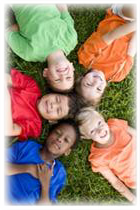 Mission Friends is for boys and girls, two years old through kindergarten, and provides the building blocks of faith and a basic awareness of God's love for all people.
As the boys and girls grow in missions awareness:
They learn that God wants everyone to know of His love
They begin developing a Biblical worldview
They move from a focus on self to a focus on others
They begin to learn how they can help others in need
Our Mission Friends have fun learning about missions through stories, songs, games, hands on activities and participating in monthly mission projects. Come visit with us. You will see that learning about missions is fun!
Mission Friends meets Wednesday evenings from 6:30pm to 7:30pm in the Mission Friends/Children's Classroom.