VIENNA VILLAGE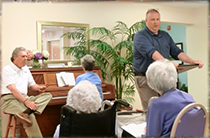 The first Wednesday of each month we go to Vienna Village Assisted Living center, We sing some of the old hymns and share the Good News with the residents. You can tell by the expressions on their faces that this time is important to them.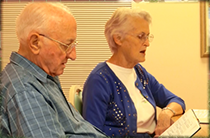 Any one that can help lead in Bible study or music, assist the folks find music andscriptures, or just be there to join in the fellowship is invited to come. It is what we are called to do... serve others and share the Good News.
One hour, once a month, makes all the difference. You will be blessed.